Exhibits, Programs, and Hours
Weekday Programs:
Open Monday – Friday from 9:00 a.m. – 4:45 p.m.
Each weekday at 3:30 p.m. a themed 30-minute wildlife program will be presented in the Center's lecture hall, pavilion or amphitheater.
Click HERE to see the weekday program schedule.
---
Wildlife Center Exhibits:
Down-To-Earth Encounter:
Visitors can explore Georgia's habitats and locate native species hidden in the display. Located in our main building, this area houses a number of snakes, as well as American alligators and turtles.
Raptor Walkway: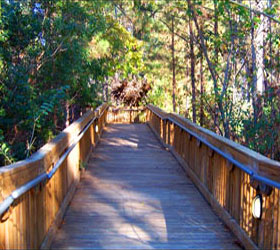 Learn about various birds of prey and their habitats by taking a walk down our Raptor Walkway. This exhibit highlights a few of Georgia's native raptors including the red-tailed hawk, bald eagle, peregrine falcon, screech owl, and more.
Ecology Pavilion:
The Ecology Pavilion is an open air pavilion that is able to accommodate up to 120 visitors. Guests are able to rent the Ecology Pavilion for events, but must be reserved in advance.
Children's Discovery Trail:
This adventure trail teaches visitors about various natural artifacts. Snake skins, turtle shells, deer antlers, and more are on display throughout the trail. Highlights of this exhibit are two native mammals; the Virginia opossum and the striped skunk. Also on the trail, guests can find the kid's eagle nest and wingspan display.
Freedom's General Store:
Freedom's General Store is the Center's souvenir shop located in the lobby of the main building. There is something for everyone in Freedom's General Store; from t-shirts, and books to little plush replicas of Freedom, you'll find that perfect gift to take home.
Invasive Species Exhibit
Opened to the public in 2018, the Center's exhibit "Under Attack" focuses on invasive species around this area. This exhibit features interactive quizzes, hands-on touch displays, as well as one of the Center's most notable animals; a 15-feet Burmese python.
Waterfowl Pond
Our waterfowl pond is home to over 100 ducks representing 15 species that are native to Georgia. This 15,000+ square foot walk-in aviary gives visitors the opportunity to observe these active birds up close and personal. The Center is home to the largest collection of native waterfowl in the state of Georgia, and one of the largest walk-in aviaries in the region.
Last updated: 5/26/2021