EC Paris, France
APPLY NOW!! (Deadline: March 1, 2019)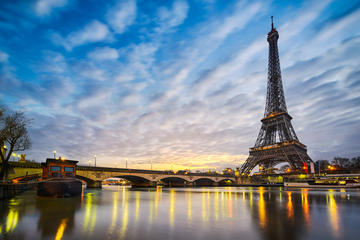 Paris, France: June 30 – August 5, 2019 (Summer Term B)
Join faculty and students from across the University System of Georgia for a 5-week adventure in Paris, France!  Students will spend Term B living, studying, and exploring a city rich in culture, history, and architectural splendor.  Stay at the Cite Universitaire in residential Paris, explore the urban parks and boulevards of George Haussmann's creation, and travel outward to the picturesque French countryside to Chateaus and vineyards.
Students will spend two days per week in the classroom, attend class field trips two days per week, and have several free and planned 3-day weekends.  All students will be registered for classes through Georgia Southern and receive Georgia Southern credits.  It is mandatory to register for at least 3 credit hours while on this program.
Program Cost
The 5-week program cost is $5,200.00 (tentative-final price coming September 10) and includes the following:
Roundtrip airfare between Atlanta and Paris
Private room accommodations at the Cite Universitaire
10 meal tickets and a 100 euro grocery card
Boat tour and formal dinner cruise on the Seine
Day trips to Chartes and Giverny
Versailles Gardens Visit and Fireworks Show
Unlimited travel on the Paris metro and bus system
A primary health insurance policy providing coverage for medical expenses
The program cost does not include: Georgia Southern tuition and fees for course enrollment, personal shopping or travel expenses, or food/meals beyond the allotment provided.  HOPE and other forms of financial aid are available for students participating on summer study abroad.  Contact the Office of Financial Aid at 912.478.5413 to learn more.
Course Equivalencies
What will you earn credit for at Georgia Southern?  Use this guide to help you select the courses you need.  Georgia Southern course numbers are listed in italics.
Morning Classes
Human Development  – PSYC 3333s: Lifespan Development Psychology (PSYC 1101 pre-requisite)
Intro to French Film – TBD
Introductions to Sociology – SOCI 1101s: Intro to Sociology
Exploring Space & Place: Watercolor Painting in Paris – ART 4590s: Watercolor in Paris
French Conversation – FORL 3030s: French Conversation (taught in French)
Black Culture in Paris Today – ANTH 3091s: Contemporary Black Culture in Paris
Fren 2001 – FREN 2001s: Intermediate French I
World Literature II – ENGL 2112s: World Literature II (ENGL 1102 pre-requisite)
Afternoon Classes
Feature and Travel Writing – TBD
Sociology of Sport – TBD
Art in the "City of Light": An Introduction to Art in Paris – TBD
Fren 1002 – FREN 1002s: Elementary French II
French Reading & Writing in Paris – FORL 3030s: French Reading & Writing (taught in French)
Cultural Anthropology – ANTH 2431s: Cultural Anthropology
Crime Film and Literature – TBD
Contact
To learn more about the program, payment schedules and deadlines, read course descriptions, and apply, visit the program website.
For questions, contact:
Dr. Luc Guglielmi – Program Director, lguglie1@kennesaw.edu
Dr. Ken Kirk – Program Director, kkirk@valdosta.edu
Ms. Emilee Carr – Study Abroad Advisor, International Programs & Services, ecarr@georgiasouthern.edu
Last updated: 9/6/2018